My debut novel, Strains of Silence, hit the virtual shelves today.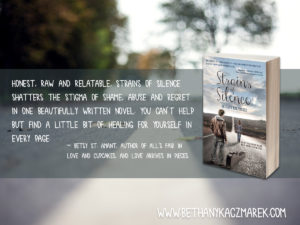 Release day. I knew this day was coming, prepped for it even. But after seven years, after four complete rewrites, it's live. My friends are telling me it showed up on their Kindles at midnight.
Reviews are appearing.
And I am blown away. Humbled beyond belief. It's surreal. (But nice.)
One of my favorite ways to share about what went into writing this novel is by hopping around the interwebs for interviews. And some bloggers have just given me the space to write about my travels or my inspiration.
Blog Tour
Rel Mollet introduced me on her Author Alert at Relz Reviewz. She also gave a sneak peek of my first chapter. (Run! Go read it. It's free.)  
Crystal Collier did a paperback giveaway for me (it's not too late to enter as of July 21st!). We played Guess the Lie.
Tanya Stowe allowed me to share about my years in Poland and why those amazing people influenced my writing so heavily.
Delia Latham's Chirp 'n' Chatter blog got a little more serious, as I talked about the need to be able to say "I'm not okay" and not be judged for it. Even in church.
The lovely Sarah Ruut interviewed me over at her Fiction, Faith, and Fun site. There's a giveaway happening there too! Don't miss it! And she'll be actually reviewing the book on July 28th.
And the Fiction Aficionado featured me on her First Line Friday.
And there's more to come! This week, Emilie Hendryx will feature Strains of Silence in her New Novel News (with an interview to come later), and I'll be getting reviewed over at Fiction Addict and Radiant Lit.
Then, on the day that the paperback releases, August 1, Savanna Kaiser will review the book at The Engrafted Word.
There'll be more, too. Let me add that–if you're an avid reader, whether you read my book or not–these blogs I'm tagging are fabulous about recommending new books. Check them out often. Follow them. Join the communities.
There's nothing quite like a good book.
One more time, here's the back cover blurb from Strains of Silence:
Music was her driving passion and the truest expression of her faith, but three months before her wedding, twenty-year-old Kasia Bernolak can't even pick up her guitar. Feeling like a fraud who will ruin her dad's pastoral reputation, she can barely meet his eyes. When Kasia finds the strength to break off her engagement, she still doesn't realize the dangerous truth: Blake Hamilton isn't ready to say goodbye. And he'll do whatever it takes to keep her.
Alexander "Zan" Maddox has seen what a domineering man can do to an unsuspecting woman, and Zan is sick of injustice. He gave up a college baseball scholarship so he could protect his sister from her abusive husband. When he rescues Kasia from her ex-fiancé, he instinctively appoints himself her personal bodyguard. Now, all he has to do is keep from falling for her himself.
Kasia and Zan become fast friends, but true healing and justice might cost more than either of them is willing to pay.
To pre-order your copy, click the cover image below.