My debut novel Strains of Silence has an actual cover! A cover that will be on the front of a book that I wrote. That I (and you, if you like) will get to stare at in person in less than a year.
Friends, it's completely surreal. I started this book eight years ago. When I signed the contract with Harbourlight (an imprint of Pelican Book Group) in April, I knew it would be a while until it felt like a genuine book. I prepared myself for the long haul.
And we began the edits. As a professional editor myself, I found the process from the other side of the table enlightening and pretty enjoyable. I learned where to relax and release my story to the trusted editor and where to say This matters to me.
I grew. And Strains of Silence, my very first book, got a little closer to done.
Then came the cover. Nicola Martinez heard me, heard my heart for my story. The imagery communicates everything I needed it to. There's a long, lonely road ahead of Kasia Bernolak, but she's walking it. And she doesn't have to feel alone.
Ready? Here it is…
(Scroll down. The suspense is killing me.)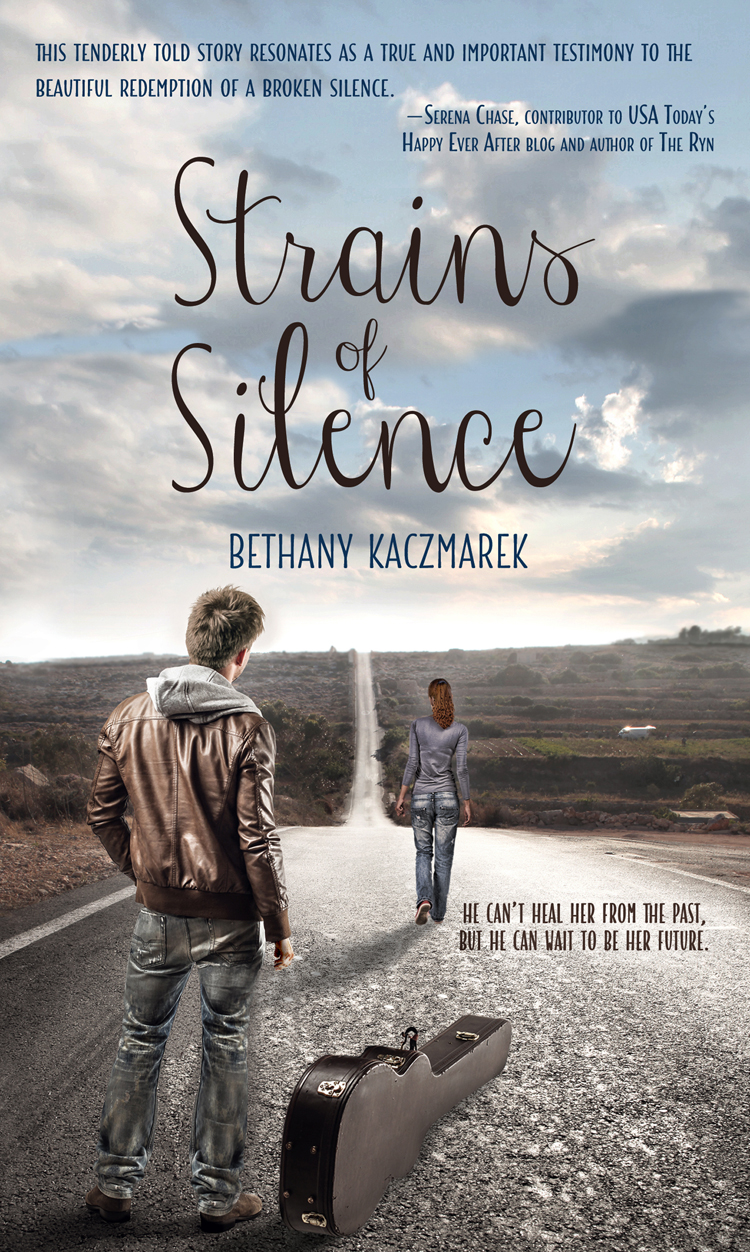 Strains of Silence releases on July 21, 2017, and I hope you'll love it as much as I do. It's up for pre-order even now, at this exact moment. (Pardon the gushing. I've never said that before.)
Music was her driving passion and the truest expression of her faith, but three months before her wedding, twenty-year-old Kasia Bernolak can't even pick up her guitar. Feeling like a fraud who will ruin her dad's pastoral reputation, she can barely meet his eyes. When Kasia finds the strength to break off her engagement, she still doesn't realize the dangerous truth: Blake Hamilton isn't ready to say goodbye. And he'll do whatever it takes to keep her.
Alexander "Zan" Maddox has seen what a domineering man can do to an unsuspecting woman, and Zan is sick of injustice. He gave up a college baseball scholarship so he could protect his sister from her abusive husband. When he rescues Kasia from her ex-fiancé, he instinctively appoints himself her personal bodyguard. Now, all he has to do is keep from falling for her himself.
Kasia and Zan become fast friends, but true healing and justice might cost more than either of them is willing to pay.
Now, if you don't want to miss other big news and stellar giveaways (read: indie music, fabuloso books, and more), sign up for my quarterly newsletter. See? Up in the right sidebar, where it says, "Don't miss big news"? Just put your email addy in there and wait for the inside scoop.

Shout at me in the comments. What do you think?